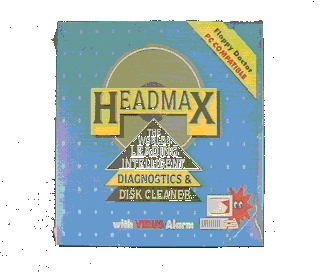 HEADMAX™ New version 3.3 available.
Works with Windows 95 and 98 in MS-DOS mode!
Click here
if you have version 3.2 and would like to upgrade FREE to this new version.
Please see the notes below regarding the use of the update.
English, Francais, Deutsch




Italiano & Espanol languages for version 3.3 available for download below.

Download Italiano

Download Espanol
To use the new version or to install new languages to version 3.3 :
1. Copy all the files on your Headmax 3.2 disk into a directory on your hard drive
e.g. C:\HEADMAX


2. Copy the files you download into this directory.
3. Run the downloaded file to extract the update files.
e.g. C:\HEADMAX\hm_33

to extract the new updated files for Headmax 3.3.

Then simply run the program. To use version 3.3 on a system with Windows 95 it is advisable to create a shortcut to the Headmax program on your hard drive. Ensure that the shortcut (properties) is set so that the program will run in MS-DOS mode otherwise your system may hang. A PIF and Icon file are included in the update. Please see the text file which will be in your Headmax directory after installation for more information regarding the use of Headmax and Windows95.